Notre actualité
The first year of SOS Détresse in English
Publié le 3 novembre 2023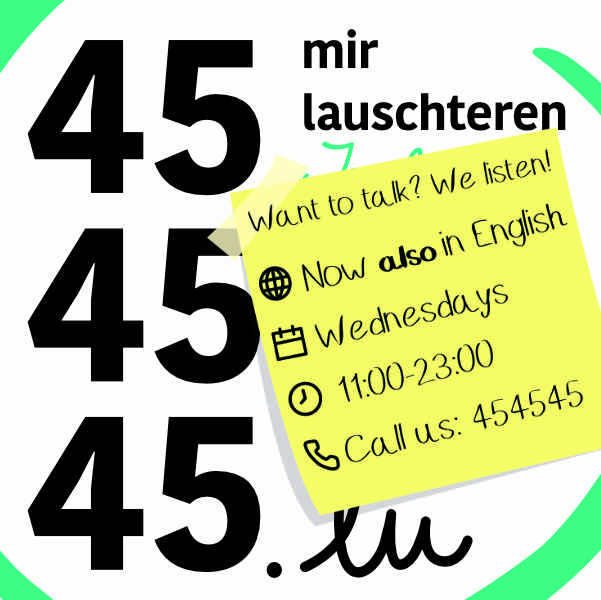 Living in multilingual Luxembourg, speaking about emotional or personal subjects can be especially challenging in a language we do not feel comfortable in. We at SOS Détresse want to offer helpful conversations to as many people as possible. This is why on October 4th 2022, we opened our helpline in English, which is now available in addition to our telephone support in Luxembourgish, German and French.
One year later, our volunteers have been there for people wishing to talk to someone in English every Wednesday. Thanks to their exceptional motivation and engagement, we could offer 137 calls in English throughout this first year of the project. In comparison, during the same time period one year before, we only had 29 calls in English.
We can see that the increased number of calls mainly took place on Wednesdays during our English shifts, whereas the number of calls on the other days of the week remained comparable to the previous year. This shows that people needing someone to talk made use of our offer being available in English on Wednesdays.
Another interesting finding is that conversations took much longer on average: 41 minutes from October 2022 to September 2023 and only 19 minutes in the previous year, indicating that there were more in depth calls within this last year. This is confirmed when looking at the different topics that appeared during the calls: Before our English line existed, a third of the calls in English were within the category "other" (e.g., asking for information). Since the start of our line in English, the most frequent categories included family, relationship issues or dealing with strong feelings.
This first brief summary shows the importance of our helpline also being available in English for anyone who needs to talk! With the next training in English having started in September 2023, we aim to extend the hours of availability at latest when this group will be finished.
SOS Détresse is reachable in Luxembourgish, German and French every day from 11:00-23:00 (on weekends until 03:00). Our English line is available every Wednesday from 11:00-23:00. Furthermore, our OnlineHelp is available in 5 languages (additionally in Portuguese).